Maple Leaf Quilters Online
| | | |
| --- | --- | --- |
| December 2005 | Goshen, Indiana | Sylva Keenan , Editor |
Hi Everyone
We had an enjoyable Thanksgiving Carry-In for our November meeting. Carol shared several items in Jan's absence. We also had several guests present. See the minutes for more details on upcoming events. A reminder that we will not have Sew What or a regular meeting in December so there will not be another Newsletter until February. I wish everyone an enjoyable and blessed holiday season. Sylva
---
UPCOMING MLQ EVENTS REGULAR MEETING SCHEDULE
(unless announced otherwise)
Regular Meeting: Waterford Mennonite Church on the 4th Monday at 6:30 PM.
Address: 65975 St Rd 15, Goshen, Indiana


MLQ Officers:
Chair: Jan Goppert, 831-4236
Secretary: Peg Hochstetler, 533-3706
Treasurer: Janis Nelson, 260-768-7202
Librarian: Becky Yoder, 825-9344
Newsletter Editor: Sylva Keenan, 642-4570
Web Editor: Carol Honderich, 534-1915

*Sew What Nights: at Edith's on the 2nd Monday of the month, 7:00 PM.
Call Edith, 875-1808 for information and directions.
Next Meeting: January 9, 2006
Next Meeting: January 23, 2006
Program: Edith Shanholt and Marie Troyer
Hostesses: Marcia Vierck and Carol Honderich
We will not have Sew What in December or a December Guild Meeting.
---
MINUTES – Maple Leaf Quilters, November 28, 2005 , Waterford Mennonite Church
Members Present: Elaine Frey, Peggy Hochstetler, Carol Honderich, Sylva Keenan, Laura Kercher, Roberta Poscharscky, Beulah Sample, Sue Stringfellow, Marie Troyer, Phyllis Windsor, Becky Yoder, Leona Martin, Florence Makousky, Claire Baker, Marcia Vierck, Gretchen Weaver, Pat Stahly, Fern Bontrager.
Guests: Kaylee Kercher, Virginia Miller, Nancy Hoover, Jim Higgins, Sue Higgins
Hostesses: Beulah Sample & Sylva Keenan
Sylva opened the meeting with a prayer and we all enjoyed a Thanksgiving carry-in with plenty of good food and fellowship.
GUEST SPEAKER: Jim Higgins and his wife Sue, from Dowagiac, Michigan talked about their bus trip to Paducah, Kentucky on April 27-30, 2006 for the annual AQS quilt show. Jim thoroughly explained the details of his proposed bus trip. There will be three Cardinal buses going with pick-ups in Goshen, Elkhart & Mishawaka. He handed out several information sheets with the complete details regarding costs, hotels, side trips, meals, etc. He will take verbal commitments as well as a commitment with $100. There are several prices, ranging from $399 - $439, depending on how many share a room. His e-mail address is jstravelservice@comcast.net.
NEW BUSINESS: Nancy Smith donated an audio book set of "The Sugar Camp Quilt" books by Jennifer Chiaverini to the guild. We voted to place it in the guild's library rather than auctioning it off. Thank you Nancy!
FEBRUARY QUILT RETREAT at Quaker Haven: (February 3, 4 & 5, 2006)
A $25 deposit, per person, needs to be paid to Maple Leaf Quilters, and a group deposit made to Quaker Haven by December 9. Carol collected money to give to Janis. Laura has asked members to bring items for door prizes. It was discussed as to how many meals should we do per day. Eat at the lodge for some and at the big lodge for others. It was left open for later discussion. We have plenty of room for additional guests if you would like to invite someone to the retreat. Activities will include Friday evening Chili supper, Saturday shopping in Warsaw (including a stop at Lowery's Sewing Center), and working on a Mystery Quilt project.
Retreat Mystery Quilt - Marie is making plans for a mystery quilt project for the February Retreat. If you wish to participate in the Mystery Quilt during the retreat, here are the fabric reuirements:

The materials suggested here will make a 72" x 84" quilt. The quilt will have a scrappy look and the blocks can be set in a variety of ways, including using sashing (from your background fabric) or using alternate 12 1/2" squares (background fabric). We will swap baggies of prints. Here is the total fabric requirements for a 72" x 84" quilt.

Prints: 1 3/4 yards
Background fabric: 5 yards

Instructions for preparing your prints for swapping:

| Number to cut PER SET | Cut size | Fabric |
| --- | --- | --- |
| 2 | 5" x 5" | Print |
| 4 | 2 1/2" x 5" | Print |

Place the PRINTS for one set into a baggie for the swap. You will need 21 sets.
Below are the cutting instructions for the BACKGROUND fabric. This can be all the same fabric or from a variety of similar light neutral fabrics. You may want to set your finished print blocks with alternate 12 1/2" squares of the background fabric (you will need 21), so consider that option as you cut the pieces below, to allow yourself enough width of fabric to cut setting blocks. Or you may decide to use sashings made from the background fabric to set your print blocks. This is the background cutting information for 21 sets - these will not be swapped.

| | | |
| --- | --- | --- |
| 21 | 4 1/2" x 4 1/2" | Background |
| 42 | 5" x 5" | Background |
| 84 | 2 1/2" x 5" | Background |

If you have questions, contact Marie at 574-295-7787 or at Quiltstitcher111@aol.com .
SEVEN SISTERS QUILT WORK DAY: A work day is scheduled for Saturday, January 7 at Prairie Street Mennonite Church, 1316 Prairie Street, Elkhart starting at 9:00. Members are asked to bring good quality red and burgundy material to share, all prewashed to avoid color running. Also bring hand sewing and cutting supplies and food. Chili will be provided by Barb Dizney, members can bring the rest.
Prairie Street Mennonite Church is located on Prairie Street in Elkhart, south of South Main Street and north of Indiana Ave. Park behind the church and enter by the back (east doors). Here is a map. Call Marie (574-295-7787 home or 574-370-8643 cell) for more information. The phone number at the church is 293-0377 if you need to reach someone there on January 7.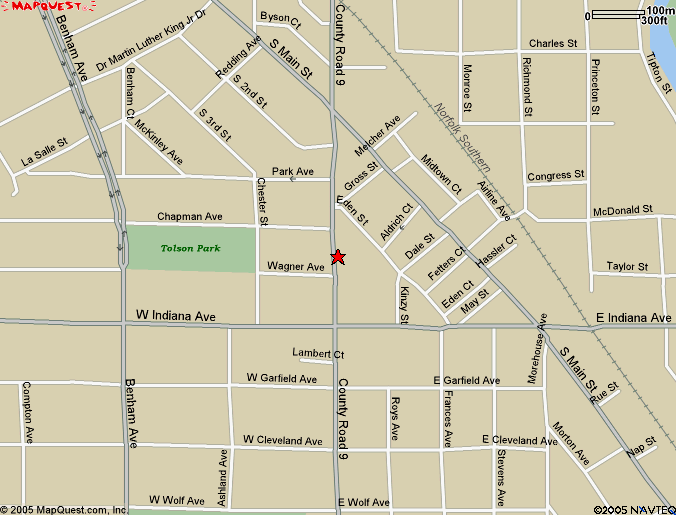 Show-n-tell:
BOM's – Carol, Laura, Becky, Pat, Phyllis
CHARITY BABY QUILTS – Fern, Beulah, Roberta (2), Gretchen
Carol – showed a picture of a wooden coffee table that an online friend's husband made using the "Women of the Bible" quilt squares. She is also teaching fellow co-workers how to quilt after work twice a month. She is having them do sampler blocks.
Fern – was quilting a baby quilt whose design she got from one of her husband's floor tile jobs. She also had two other baby quilts pieced and was waiting to quilt those.
Sue – was stitching a Snowman penny rug mug mat for a fellow co-worker.
Peggy – showed the Shipshewana Blessings Wallhanging that was pieced and waiting to be hand quilted.
Sylva – showed a finished Double Wedding Ring quilt she plans to give to a niece who is getting married in April 2006.
Florence – showed her Log Cabin "Streak of Lightening" quilt that was waiting to be quilted by Laura.
Kaylee – showed her blue jean purse that she made out of her pants.
Laura – showed us a picture of a Log Cabin Quilt that she made and quilted and gave to her niece for her wedding.
Gretchen – showed a finished quilt that she made for the Bethany Christian Schools auction. She also showed us her scrappy Jewel Box quilt.
Naomi – showed us a whole cloth quilt that her cousin hand quilted for her. She will bind it.
Roberta – gave two hand crocheted baby blankets for charity.
Beulah – gave a boy baby quilt for charity. She showed two more Chinese Coin quilts that she made for her great grandchildren.
Marcia – showed a beige/beige Wallhanging made out of Dear Jane blocks while at the Dear Jane retreat at Shipshewana this month.
Marie – was making a Wallhanging as a gift for a friend.
Claire – showed a Snowflake quilt in Christmas colors. She was working on her 1930's Dear Jane quilt. She had 160 plus squares in this quilt.
Elaine – showed us the NOEL mini wallhanging that she started making today and was putting the binding on it tonight. Showed a quilt that her niece started cross-stitching at least 13 years ago. Her niece then handed it over to Elaine's sister-in-law to finish who in turn gave it to Elaine's mother to finish and in the end Elaine actually finished piecing it completely. Showed a boy's quilt that she pieced from a kit that she bought at Yoders in Shipshe. She also had a quilt made out of "Northwoods Crossings" fabric for her nephew in Alaska. Showed us the many table runners that she made while at the Dear Jane Retreat this month.
BLOCKS OF THE MONTH
Claire handed out directions for November BOM called Snowflakes.
Barb handed out directions for December BOM called the Scrappy Star.

BUSINESS MEETING: Carol chaired the evening in Jan's absence. We will also be collecting dues of $10 in January for the entire year. The sheet for signing up for 2006 programs, hostesses and BOM's was circulated again.
Submitted by Peggy Hochstetler
---
Committees:
Charity: Becky, Elaine, Janis
Show '07: Carol, Edith
Publicity: Carol, Edith
'06 Retreat: Laura, Betty
Hospitality: Sue, Sylva
Mission/Purpose & Goals: Jan, Carol
Block of the Month Project: We will be continuing this project in 2006 and several members have already signed up for a month.
Jan Goppert prepared the following information: Traditional Design - Pattern for 12 inch finished block. The members at the June meeting decided to have a Block-of-the-Month project this year. It was decided to have the patterns be traditional designs for a 12" finished block. The blocks can be traditional designs with a "twist" if it is your own design creation.

NOTE: If you are looking for block ideas for this project on the internet, you might try this site: Quilt Blocks Galore, http://www.quilterscache.com. You will find hundreds of quilt blocks patterns. You will take the pattern home with you and make the block for yourself with your choice of fabrics. Bring the finished block (or blocks) for "Show and Tell" the next month. If you are ambitious, maybe you could make 2 blocks. Make one block for yourself and one block to donate to the guild. At the end of a year we would have quite a collection of blocks to make opportunity quilts (for raffle) or charity quilts. The following people have signed up to bring a block design pattern for one month of the guild's Block-of-the-Month project:

---
Maple Leaf Quilters Meetings for 2006.
Please sign up soon if you haven't yet.
| | | |
| --- | --- | --- |
| 2006 | Program | Hostesses |
| January 23 | Edith and Marie | Marcia and Carol |
| February 27 | Claire | Betty and Peggy |
| March 27 | Heartland Quilters Tea | |
| April 24 | Jan | Roberta and Fern |
| May 22 | Betty | Jan and Barb |
| June 26 | Pat | Edith, Elaine, Becky |
| July 24 | | Roberta and Sue |
| August 21 | Barb | Pat and Phyllis |
| September 25 | Fern and Laura | Florence and Marie |
| October 23 | Carol and Elaine | Fern |
| November 27 | Thanksgiving Carry-In | Sylva & Beulah |
| December | No Meeting | No Meeting |
---
Upcoming Quilt Events:
April 27-30, 2006. Grand Rivers Eighth Annual Spring Festival & Quilt Show in Grand Rivers, Kentucky. For more information contact Donna Brugger (270) 988-2225, or Chamber of Commerce, info@grandrivers.com or www.grandrivers.com under festivals and events. There will be a raffle, quilts for sale, demonstrations and vendors inside & outside. $3.00 donation.
April 27-30, 2006. J&S Travel Paducah Quilt Show Bus Trip. For more information, here is a PDF file with itinerary, pricing and sign-up form. Contact Jim Higgins at jstravelservice@comcast.net or at 574 596-6035.
Quilter's Hall of Fame Celebration 2006, July 13-16, in Marion, Indiana. "How Does Your Garden Grow" juried quilt show guidelines and entry form. First prize $500 donated by Quilters Newsletter Magazine.
---
Recommended Quilting Web Sites:
Maple Leaf Quilters Yahoo Group Site - come here to share photos, send emails, read archived newsletters, find links, files and more. If you have not signed up, or if you are having trouble reaching this site, please email Carol H. at Carol@honderich.com
For Maple Leaf Quilter Members only: http://groups.yahoo.com/group/MLQltrs
Carol Honderich, Webmaster
Last Update - December 3, 2005