Maple Leaf Quilters Online
| | | |
| --- | --- | --- |
| January 2001 | Newsletter | Goshen, Indiana |
HAPPY NEW YEAR!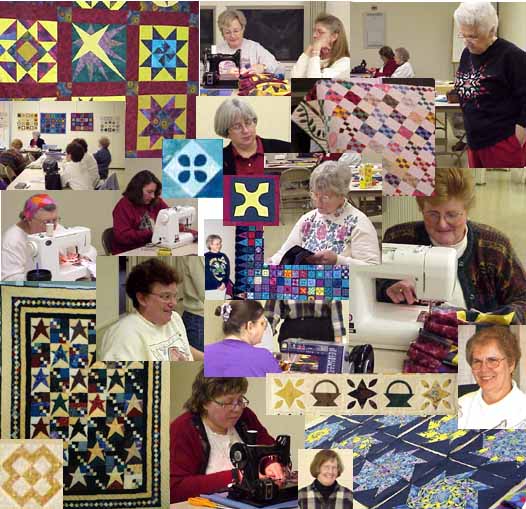 Y2K was a busy year for MLQ.
The collage above shows a few of the projects we've worked on individually and corporately during the past year, along with some of the members of the Maple Leaf Quilters guild. What a talented bunch of women!
______________________________________
UPCOMING MLQ EVENTS
REGULAR MEETING SCHEDULE
Regular Meeting at Waterford Mennonite Church on the 4th Monday at 6:30 PM.
Address: 65975 St Rd 15, Goshen

Sew What Nights at Edith's on the 2nd Monday of the month, 7:00 PM.
Call Edith, 875-1808, for information and directions.

MLQ Officers:
Chair person: Nancy Smith, 293-3846 or e-mail Aztech.@prodigy.net
Secretary: Marie Troyer, 294-7787 or e-mail Quiltstitcher111@aol.com
Treasurer: Liz Martin Clark, 535-2834 (work) or e-mail turkeycreek@maplenet.net
Monday, January 8, 2001, 7:00 PM. Sew What/Business Meeting.
Monday, January 22, 2001, 6:30 PM. Charity Quilt Sewing. Bring your sewing machine.
Monday, February 12, 2001, 7:00 PM. Sew What/Business Meeting.
Saturday, February 24, 2001, 2 PM. Weekenders Clothing Party. (Location to be announced).
This is a fundraising event for Maple Leaf Quilters. You'll love the comfortable and easy-to-care-for clothes available through Weekenders. A percentage of what you spend will go to our treasury. Guests are VERY welcome!
Monday, February 26, 2001, 6:30 PM. Machine Quilting with Connie Ozinga. Bring your sewing machine.
Monday, March 12, 2001, 7:00 PM. Sew What/Business Meeting.
Saturday, March 24, 2001, 9 AM- 4PM (with lunch break). Help is Here for EQ4 Seminar with Barbara Vlack. This is a hands-on opportunity to learn from a great teacher and Electric Quilt software expert. We will be using a computer lab for this seminar so each person will have the opportunity to follow along step by step on a computer, creating quilt designs with EQ4. If you own this quilt design software and would like to become proficient OR if you are considering purchasing this software, you won't want to miss this seminar. Space is limited so sign up now. The cost is $40 for this six-hour seminar. For more information, please contact Nancy Smith, at 293-3846 or e-mail Aztech.@prodigy.net. For more information about EQ4, visit their web site: http://www.electricquilt.com/.
Monday, March 26, 2001, 6:30 PM. Regular Meeting - activity to be announced.
_____________________________________
IMPORTANT- - -IMPORTANT- - -IMPORTANT- - -IMPORTANT- - -IMPORTANT- - -IMPORTANT
| | |
| --- | --- |
| CHARITY QUILT PROJECT. Fran Hathaway has agreed to head up the Charity Quilt Committee. Our first offical project for 2001 is making blocks for a quilt for the annual Michiana Relief Sale in September. This will be our third consecutive year providing a quilt for the auction. We've decided to make a whimsical quilt this year using the hen pattern, shown here, from the book Whimiscal Quilts. Information and patterns are available from Fran. Deadline for the 12 1/2" blocks is the January 22 meeting. | |
IMPORTANT- - -IMPORTANT- - -IMPORTANT- - -IMPORTANT- - -IMPORTANT- - -IMPORTANT
_____________________________________
OTHER QUILTING EVENTS AND OPPORTUNITIES
January - April, 2001. Quilt Classes sponsored by Yoder's Department Store, Shipshewana. Patty Sliney is teaching a number of quilt classes for Yoder's. Classes are available for every skill level. For a schedule of classes in January - April, click here: Class Schedule. For a description of the classes available, click here: Class Descriptions. For additional information email Patty at hoosierquilt@aol.com.
March 1 - 3, 2001. 10th Annual Indiana Heritage Quilt Show, Bloomington Convention Center, 302 S. College Ave, Bloomington, IN. For more information, visit their web site at http://www.ihqs-quiltshow.org. This is a major quilt event in Indiana, featuring nationally known award-winning teachers.
March 17, 2001, 8:30 - 4:00 PM. Gathering of Quilters 2001, hosted by Creative Threaders, to be held at Cordier Auditorium, Manchester College, North Manchester, IN. Speaker: Beth Ferrier, Designer and Lecturer. Ticket information is available from Lana Dowell, P.O. Box 480, North Webster, IN 46555, phone 219-834-4811. As in the past, Maple Leaf Quilters will plan to send in a group registration. We will collect information on who is planning to participate. Cost is $12. and includes lunch if you pre-register.
______________________________________
BIRTHDAY FAT QUARTER CLUB.
From July, 2000-June, 2001 we encourage you to join the Maple Leaf Quilters Birthday Fat Quarter Club. Here's how it works: When you sign up you are committing yourself to provide a birthday card and fat quarter of fabric (approx. size: 18" x 20-22") in the color and/or theme chosen by that particular month's Birthday Gals. We will use the regular 4th Monday evening meeting as the time to present the cards and fabrics to the participants. Fabric themes you might choose for yourself could be: "purples" or "cat fabric" or "batiks" or "Thimbleberry fabrics," -- anything you like and want to collect. When purchasing your gift fabric, please buy good quality 100% cotton quilting fabrics. You can use fabric from your stash if it fits the theme/color being requested. Finding the perfect fabric and birthday card for each of the other members will be lots of fun. If you sign up late you will be responsible to make up the gals who have already celebrated their birthdays. -- Carol Honderich
Birthday Club Members. Please check the list and make sure you are current with your gifts.
| | | | |
| --- | --- | --- | --- |
| MONTH | MEMBER | BIRTH DATE | FABRIC DESCRIPTION |
| JULY | -- | -- | -- |
| AUGUST | Nancy | 8/16 | Batiks |
| SEPTEMBER | Connie | 9/3 | Hand dyed and batiks |
| OCTOBER | Edith | 10/25 | Homespun fabrics |
| NOVEMBER | Janis | 11/06 | Batiks |
| | Betty | 11/27 | Bug fabric |
| DECEMBER | Roberta | 12/4 | Hand dyed greens |
| | Liz | 12/5 | Polka-Dot fabrics |
| JANUARY | Marie | 1/11 | 30's Fabrics |
| FEBRUARY | Phyllis | 2/13 | Batiks |
| | Becky | 2/16 | undecided |
| MARCH | Paula | 3/12 | undecided |
| | Carol | 3/27 | Vegetable fabrics |
| | Beulah | 3/30 | Pinks and purples |
| APRIL | Sylva | 4/6 | Green floral prints |
| MAY | Patty | 5/6 | Hand dyed, Civil War colors |
| | Fran | 5/8 | Fabric with stripes, dots or spots |
| | Elaine | 5/29 | undecided |
| JUNE | -- | -- | -- |

FAVORITE ONLINE QUILT LINKS. In each edition of this newsletter I've been featuring an favorite quilt site on the Internet. This month I would like to share another one of my favorites.
Paper Panache is a web site created by Linda Worland. This very talented quilter/designer has created paper-pieced designs that you won't find anywhere else on the Internet. She regularly posts free mystery blocks and frequently updates here site so you'll want to visit regularly. The current site shows a number of great border ideas - ribbons and hearts that would be nice for Valentine's Day. Stop in and tell her Carol sent you! Here's the link: http://www.paperpanache.com/.
| | |
| --- | --- |
| Quilt from Keepsake Quilting's web site | The second site I'd like to share is that of Keepsake Quilting. Keepsake has had a quilt catalog that has been popular for many years, but the website offers more than fabrics and patterns. Currently two free patterns and instructions are available. One pattern is for a Screenquilt, a cover-up for your computer monitor. . . very nice! The second is a Sunbonnet Sun Crib Quilt (pictured here). Patty Sliney has used this pattern for a twin-sized quilt which she showed at the Sew What Meeting at her house this summer. It was beautiful. Visit there site at: http://www.keepsakequilting.com/ and click on the Project Corner link for these two free patterns. |
Additional Favorite Quilt Fabric Links from past issues:
Maple Leaf Quilters On-Line Archive:
Dear Jane Rows of Sharing Project, July 2000
January 2000
March 2000
May 2000
July 2000
October 2000
Carol Honderich, Editor
Last updated January 6, 2001