Maple Leaf Quilters

Online
| | | |
| --- | --- | --- |
| March 2000 | Newsletter | Goshen, Indiana |
______________________________________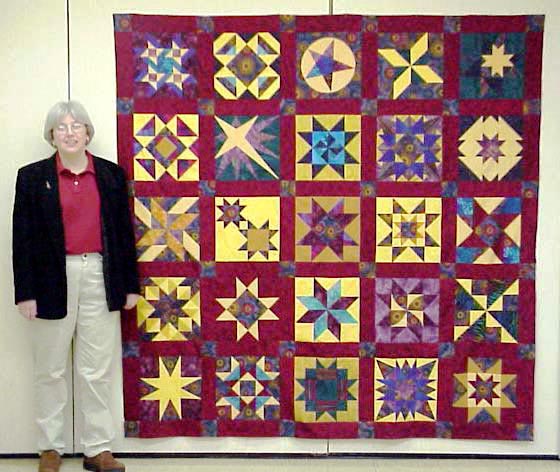 Fran's excited about the outcome of her Chairperson Quilt, "Oh My Stars.".

From the Chair....

I have a wonderful quilt top!!!!! It is a star sampler that is so rich in color it is almost hard to even describe. For those of you who had to leave before it was put together you'll get an opportunity to see it soon and probably often! Thank you all for making the blocks for me. It is good to see the obvious improvement of skills and confidence in all of us the last couple of years. Being Chairperson has been a good challenge for me and I hope the last few months will be fun ones for the Maple Leaf Quilters. And, here is a suggestion....While you are taking some time to stitch or plan your next project, take a few moments to think about all that we have accomplished, both as individuals and as members of this guild, since we hosted the Gathering two years ago. It makes ME smile. Fran Hathaway

______________________________________


DEAR JANE ROW ROBIN. Six members of the Maple Leaf Quilters have been having fun with Dear Jane. We've have an exciting Round Robin Project going on since the beginning of December. The project, based on the Dear Jane quilt (book by Brenda Papadakis) Maple Leaf Quilters' Dear Jane Row Robin

______________________________________

UPCOMING EVENTS


REGULAR MEETING SCHEDULE

Regular Meeting

at Waterford Mennonite Church on 4th Monday at 6:30 PM.
Address: 65975 St Rd 15, Goshen

Sew What Nights

at Edith's on the 2nd Monday of the month, 7:00 PM.
Call Edith, 875-1808, for information and directions.

Monday, March 27, 2000, 6:30 PM. Giving Orphan Blocks a Home. Please bring your odd, left-over, or one of a kind quilt blocks and strips to be pieced into a large quilt. Bring a few pieces of fabric to use in the background or to piece additional blocks if needed. Please bring your sewing machines.

Monday, April 24, 2000, 6:30 PM. Creating Celtic Designs, by Elaine Frey.
Here's a list of what to bring:
One ever-sharp pencil like the ultimate quilting pencil or another pencil with lead that doesn't smear.
Two sharpie pens of different colors. Stay away from yellow because it doesn't show up.
Scissors to cut paper
Elaine will provide an instruction sheet for each person, and tracing paper and patterns. She will also demonstrate bias tape appplication for those that have never done any stained glass type work.

______________________________________

OTHER QUILTING EVENTS

Gathering 2000, "A Pieceful Beginning," Saturday, March 18. This year's gathering is sponsored by the Heartland Quilters of Elkhart and will be held at St. Mary's College. Admission is $11.

Sauder's 24th Annual Quilt Fair, April 24-30, Archbold, Ohio. Over 400 beautiful quilts in nine categories hang full-length for this spectacular 6-day show in spacious Founder's Hall. Special Guest: Joen Wolfrum, author and teacher of Fox Island, WA. Teachers: Connie Tesene and Mary Tendall Etherington of Country Threads. Call for workshop details: 1-800-590-9755 or (419) 446-2541, or Fax: (419) 445-5251, or E-Mail: village@bright.net. Here is the web site although there are no details about Quilt Fair classes. http://www.saudervillage.com/

Dear Jane Retreat, Farmstead Inn, Shipshewana, April 27-29.

April 29 through July 30, 2000. Indianapolis Museum of Art-Columbus Gallery will be exhibiting a collection of Marie Webster Quilts.

Topeka Quilt Show and Sale, Topeka United Methodist Church corner of Pine and Babcock street in Topeka, Indiana. The show is Wed, June 21 10-5; Thurs June 22, 9-5; Friday, June 23 , 9-7; and Sat, June 24, 9-12. Quilts and items for show or sale should be brought to the Church on Monday June 19 or Tuesday, June 20 Between 9-4. This is quite a large show with many items for sale. Admission is $3, Exhibitors, free. All sales cash.

Quilt Surface Design Symposium, June 11-23, Athens, Ohio. Brochures will be available at our January meeting, or visit their web site, http://www.qsds.com/symposium.html. The Symposium sponsors a two-week series of affordable training seminars, designed to provide hands-on training in a variety of Quilting-related textile art fabrication techniques and methods. Classes cover many topics ranging from physical construction techniques such as Fabric Dying, Fusing, and Collage, to developmental skills such as, putting together a presentation, and cultivating creativity. This Symposium is sponsored by Nancy Crow and Linda Fowler.

______________________________________

Block of the Month Info:
| | | | |
| --- | --- | --- | --- |
| MONTH | MEMBER | FINISHED BLOCK SIZE | DESCRIPTION |
| FEBRUARY | Marie | 12" | Appliqué block. Marie has patterns you can chose from or you can do your own. |
| MARCH | Rachel | 12" | Green, blue, red and white to make a sampler quilt. |
| APRIL | Kate | 12" | 30's reproduction prints, pastels. |
NEXT MONTHLY BLOCK PROJECT. Please be thinking of ideas for a monthly block swap to replace the above swap which is coming to an end.

If you are not caught up with your block commitment, please make an effort to get current.
______________________________________
MAPLE LEAF QUILTERS SPRING CHALLENGE
The current challenge - Embellishments! Use trims, beads, buttons, ribbons, lace, fancy threads and stitches to create a 24" (at least) piece. It can be any style, any thing. Stretch yourself. Be bold. Go where you have never been before. Tell your old way of thinking to be quiet so you can surprise yourself. Go for it. The challenge is to be finished in May.
GUILD OPPORTUNITIES
It's time to think ahead. We will need to fill some offices when our "year" starts this June. We will need a Vice Chair and Treasurer. Please consider filling one of these positions. The Maple Leaf Quilters can only be successful when every one makes the effort to contribute.
And, it would be sooooo nice if we had a historian--someone regular in attendance who can take pictures and document the events and happenings of our guild. We have had some wonderful things going on in our guild and nothing is being formally recorded. Let's get in gear with this before we let more time pass.
Fran also announced at the January meeting that we would like to consider adding a new position, that of Hostess, to our Maple Leaf Quilters offices. The hostess would be responsible for welcoming guests, providing information about Maple Leaf Quilters, answering questions about membership, and providing follow-up contacts with new and prospective members.
For additional information contact:
Carol Honderich
Updated March 19, 2000